CYBER SECURITY
Protect your organisation from cyber attacks
Implementing cyber security measures aimed at preventing the loss or theft of sensitive data has never been more crucial. Biometric security is fast becoming the preferred way to safeguard organisations from cyber fraud and identity theft.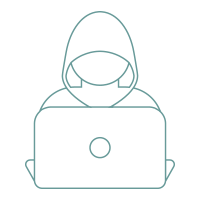 Prevent costly cyber attacks with identity assurance
Cyber crime is the fastest-growing type of crime impacting organisations, projected to cost $6 trillion annually by 2021. With weak credentials and poor password management responsible for the great majority of these attacks, it's critical organisations invest in improved authentication methods.
A biometric credential is a more secure, mature and convenient authentication method. Biometric data such as fingerprints, voice and iris cannot be guessed, forgotten or misplaced, greatly diminishing the risk of fraudulent account takeovers and cyber hacks.
Access all areas with secure, adaptive authentication
A DaltreyID is a single biometric credential that can be used for authentication across both digital and physical systems, delivering convenient, strong authentication across all identity-dependent processes and greatly diminishing cyber threats.
Whether a user is in a work environment or working remotely, on a company system or their own device, they can log in simply by entering their email address and presenting their face, voice or other enterprise-defined modality. Anti-spoofing liveness detection ensures continual user presence.
Daltrey's solution is customisable, allowing organisations to choose the appropriate mix of adaptive, step-up and multi-factor authentication to suit each role, resource sensitivity and application. This ensures sensitive tasks are being executed by the right users, greatly reducing the threat of malicious actors.
Quickly detect a cyber threat with behavioural biometrics
Behavioural biometrics uses machine learning to continually analyse how users interact with your organisations' systems, distinguishing between verified users and bots or cyber criminals trying to commit fraud. Real-time alerts enhance cyber security by allowing you to detect cyber attacks and fraudulent activity at an early stage.
Security, compliance and trust
Protecting your user data is the foundation of our business. We use a highly-secure cloud computation infrastructure and leading data protection standards, suitable for government and commercial organisations who can't afford to compromise on either security or innovation.
Free Report
How to protect your organisation from cyber attacks
Download this free report to learn how cyber criminals and identity thieves attack, how to break the attack chain and why moving to Identity as a Service is the future of security.