Goodbye passwords, goodbye
access cards. Hello Daltrey.
Join us and be part of building safer, more secure environments.
Be a change
maker.
We're shaking up biometrics and digital identity by building a first-of-its-kind technology to rid the world of passwords and access cards for good.
In joining Daltrey, you'll join a team where passions are celebrated and our differences are what make us stronger. Plus, we're officially a Great Place to Work®! This certification is considered the gold standard in identifying and recognising great workplace cultures.
What's in it for you.
Shared investment.
Our success is your success. We reward your time and investment with our employee share option scheme.
Sustained balance.
Sustained balance. Our hybrid, flexible working model allows you to work at your best and maintain a healthy work-life balance.
Staying connected.
We are connected to our communities. Our global team is connected through shared purpose, collaboration and support.
Innovation and evolution.
Your journey is part of our evolution. Your knowledge and career in identity and security will grow and evolve with us.
Work with us.
Join a team whose interests are as unique as our biometrics.
• The Explorer •
Audrey Jacquemart
DIRECTOR, PRODUCT & SOLUTION
• The Happy Camper •
Blair Crawford
CEO
• The Mix Master •
Richard Philomenraj
PRODUCT OWNER
• The Free Runner •
Sarah Lilley
DIRECTOR, PEOPLE & CULTURE
• The AFL Aficionado •
Tim Parker
PRODUCT OWNER
• The Patissier •
Mia Szukalski
TECHNICAL BUSINESS ANALYST
• The Drummer Boy •
James Berlin
TECHNICAL WRITER
• The Big Kahuna •
Michael Warnock
COMMERCIAL DIRECTOR
• The First Mate •
Pascal Jacquemart
TECHNICAL LEAD
• The Shutterbug •
Genee McMillan
ACCOUNTS
• The Beach Patrol •
Michael Field
DIRECTOR OF OPERATIONS
• The Mountaineer •
Lydia Hudson
MARKETING EXECUTIVE
• The BMX Bandit •
Merlchell Austria
SUPPORT LEAD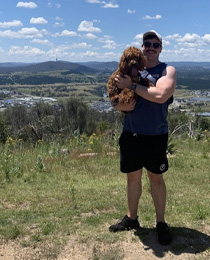 • The Hiker •
Matthew Crozier
DEVSECOPS
• The Speed Racer •
Jace Winters
SECURITY SYSTEM ANALYST
• The Karate Kid •
An Nguyen
FULL STACK SOFTWARE DEVELOPER
• The Trail Blazer •
Matteo Sganzetta
SOFTWARE DEVELOPER