Bridge the gap in your identity strategy
Until now, adding biometrics to your security strategy has been costly, challenging and deployed in isolation of other systems. Thanks to Branch, it's now simple and affordable to deploy industry-leading biometric technology as a service.
One system to manage it all
Branch is an intelligent middleware platform that provides organisations with a unified interface for managing how DaltreyIDs are used. The result is seamlessly integrated biometric credentials that work with your existing access management and technology systems.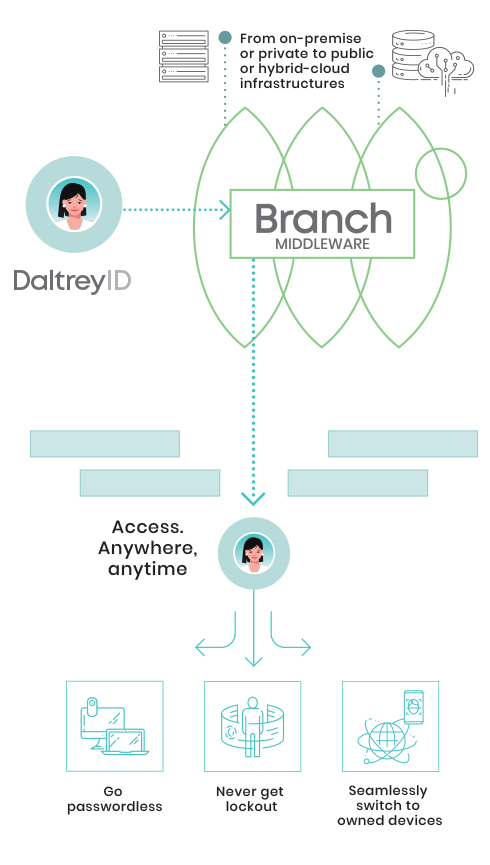 A best-in-class matching engine that performs biometric comparisons across face, fingerprint, iris and voice modalities.
Compatibility with biometric hardware, such as fingerprint readers, iris cameras, IP cameras and mobile devices.
Flexible web APIs which support OpenID Connect, SAML, AD and FIDO standards, allowing for easy integration into existing IAM systems.
Interfaces to industry-leading physical access control systems.
Streamlined, customised and compliant deployment
Daltrey operates within your current IT infrastructure, customised to suit your unique security needs and regulatory requirements.
Whether your security strategy calls for a private, hybrid or multi-cloud infrastructure or a specific public cloud provider, Daltrey has in-built solutions for:
Security, privacy and compliance, including data sovereignty
Scalability and resilience, including high availability
Agility and elasticity
Resource optimisation and cost savings